Archive for 'Published'
It's such an honor to be featured by The Love Collective in their selection of the best wedding photographers in the world. This community of professional bloggers wanted to recognized "photographers who have demonstrated excellence in various areas". Fly Away Bride, one of my favorite resource for international weddings, has selected me for this year's Top Wedding Photographers. Thank you Amy & the Love Collective for your support!
It's always fun and exciting to see my work in print. You can see some images from Norah+Jacob's wedding in the latest issue of Wedding Magazine. This was one of my favorite weddings ever, styled by the creative minds of Firefly Events and Fox Fodder Farm.
Shiva+Brian's lovely destination wedding in Paris is published on the main page of Style Me Pretty!  If you like this feature, you can see more from this wedding right here on my blog.
Martha Stewart Weddings features Hilary+Kyle's stylish Manhattan wedding for the latest Real Wedding section. Hot pink and gold palette, minimalist aesthetic, neon lighting, DIY touches and a very stylish gown… what's not to like? Check out their photos right here. Enjoy!
It's such an honor to see my photograph of Megan+Amy making the cover of The Knot's new Gay Wedding edition! As a supporter of marriage equality, I'm very excited to be a part of this special issue of The Knot magazine. Click on the cover below to browse the digital issue.
Head over to page 77-78 to see their colorful beach chic wedding in the Hamptons. Congratulations to my lovely brides on their 1 year anniversary!
If you like this lovely wedding, you can see more on my blog. Enjoy!
Norah+Jacob's is featured on Style Me Pretty today! Firefly Events and a whole team of talented vendors designed a gorgeous day which I was so pleased to capture for this lovely couple. Thanks to everyone involved, and a big thanks to Caroline for helping me that day.
Congratulations Norah+Jacob!
Head over to Style Me Pretty to see the full feature,  and you can see more photos on my blog.
I'm beyond thrilled to be named one of this year's "Rising Stars of Wedding Photography" by Rangefinder Magazine. How exciting to be featured alongside very talented photographers, some of whom have been an inspiration for me. We were nominated by editors, bloggers, veteran photographers and wedding industry professionals, then picked by the editors of Rangefinder and PDN Magazine, which makes it even more an honor.
I'm so grateful for the trust and kindness I've gotten from clients, as well as the support from photographers and editors. I tend to follow my heart and intuitions, and all this confirms that I must be on the right path.
I'm especially thankful to Laura & Ben of Weddings By Two, who helped start my photography career. Besides their stunning work, they're also very cool people with great work ethic. They gave me a chance to learn and assist when all I had to show for a portfolio was basically this little book, and zero wedding experience. "Zero" as in I had never even been a guest at a wedding in my adult life. But still, they put a Canon 5D in my inexperienced and clumsy hands and gave me a chance. Many weddings later, I'm still clumsy (a very expensive flaw when you're a photographer) but I've gained so much personally and professionally. As an associate photographer for their studio, I got to shoot fun weddings and meet cool people along the way. Laura & Ben and the rest of the team –  Merci, it was awesome working with you!
Check out  the November issue of Rangefinder Magazine online or on your iPad. If you're old school, pick up a print copy on newsstands.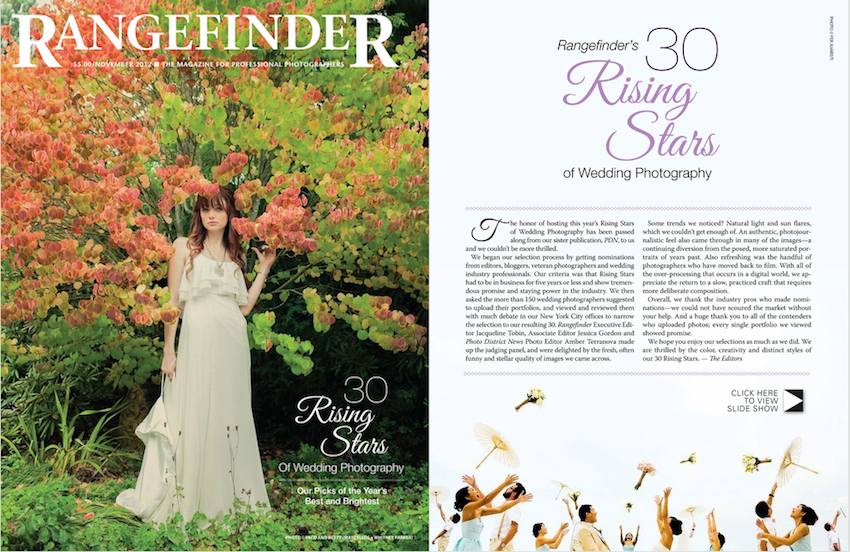 (Cover by Paco & Betty; right page by Fer Juaristi)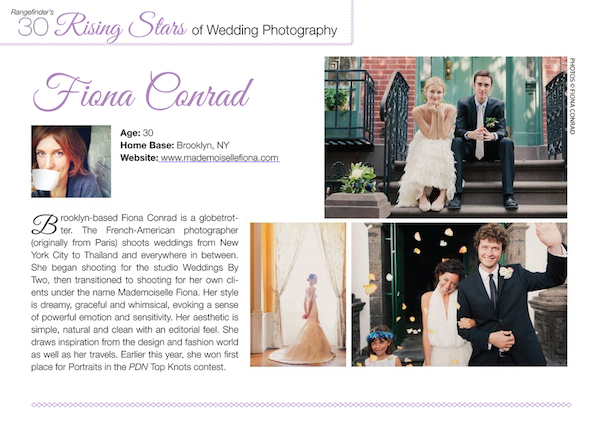 Style Me Pretty is featuring this lovely, intimate destination wedding in Paris. I told you about Robyn+Hugh's story on my blog, and it's now such a pleasure to see their day featured on one of my favorite wedding blogs. Thank you Style Me Pretty, and Félicitations Robyn+Hugh!
Amy+Megan's lovely summer wedding in the Hamptons is featured on Wedding Chicks today. A lovely garden, two beautiful wedding dresses, touches of red & blue, plenty of cute DIY details and whole lot of fun!  What a nice way to brighten up another cold, humid morning in New York, and make me long for summer days.
If you like this wedding, you can see more photos here on my blog.
Enjoy!
Here's another Style Me Pretty feature that I'm so pleased to see on their main page here. Alix & Romain had a beautifully dreamy wedding at Château de la Bourdaisière, a magnificent castle nestled in the Loire Valley. It was a pleasure to work with talented vendors such as Mon Plus Beau Jour who made their big day even more gorgeous!
If you enjoy this wedding, make sure to keep following my blog and updates on Facebook. I will be sharing a full story with new images on here very soon!